When the new U.S. 24 between New Haven and the Ohio state line opened a year ago, it was obvious the four-lane, $170 million highway had the potential to attract development and jobs to sparsely populated east Allen County. Now the first big project has come and the neighbors want to stop it, insisting the proposed Love's Travel Stop at U.S. 24 and Indiana 101 will cause irreparable harm to their property values and rural lifestyle. But this is more than a run-of-the-mill "not in my back yard" story, because the project in question is more than just a truck stop. In the absence of a comprehensive plan to shape growth along Allen County's section of the "Fort to Port" corridor linking Fort Wayne and Toledo, Ohio – something critics contend should have been in place already — the county Plan Commission's decision is likely to establish a precedent for future projects in the area. "If (the commission) allows this, it's fair game at the other interchanges (on the new highway)," said attorney Tom Niezer, who usually asks commission members to approve projects on behalf of his clients but is representing several Love's opponents because he believes the project has been badly presented, badly located and badly designed. Ideally, Niezer said, the project would have been proposed for the north side of the US 24-Indiana 101 interchange – and away from the several houses that line Maumee Center Road and Indiana 101 (Fahlsing Road) just south of the site. But Niezer suspects officials from nearby Woodburn like the location because it will be easier to annex and extend utility lines there.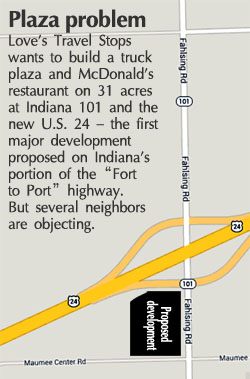 Niezer and clients such as Mark Hoeppner are also concerned about the plaza's design, which has its main entrance on Maumee Center to avoid interfering with the interchange ramps on Indiana 101. "I'm the fourth generation in my family on this property. I built here because I didn't want to live in Fort Wayne or Woodburn," said Hoeppner, who built his house on Maumee Center about 19 years ago, long before the highway opened. "They did a pretty good job keeping (the new) 24 away from the homes, but this will be a 24-hour operation. I don't want to be 'not in my back yard,' but we'll have 100 semis a day going past our house. My home's value will be cut in half." In addition to the truck plaza, Love's is also planning a McDonald's and at least one other restaurant. And if that means lights, noise and traffic to neighbors like Mark Hoeppner, it means economic growth to people like Woodburn Mayor Richard Hoeppner. Mayor Hoeppner, a distant relative of Mark Hoeppner, has written a letter to the plan commission in support of the project and said the project could boost interest in Woodburn's industrial park, just a half-mile south on Indiana 101. "Any time you build, somebody will be affected," he said. Mark Hoeppner, Niezer and other opponents plan to make their case to the plan commission at a public hearing Thursday, with a vote scheduled for next week. But Niezer hopes to extend that process at least a month so his side will have more time to prepare a case. That's necessary, Niezer said, because Love's representatives never contacted neighboring property owners before the proposal was filed last month – a courtesy Niezer said he extends when representing developers. I'm not taking sides on whether the land in question should be rezoned from agricultural to commercial and the project approved. Obviously, development of an interchange connecting two highways is not only likely but at some level desirable. And the presence of an industrial park nearby indicates activity will increase there with or without the truck stop. But is the site better suited for a less-disruptive project? Could the design be changed to minimize its impact? Development plans have been completed for other roads with economic potential, including U.S. 30 and the Airport Expressway. It may be time – past time – to consider one for "Fort to Port" as well. There is precedent for what Niezer is trying to accomplish. When Flying J proposed building a truck plaza near Minnich Road and Indiana 930 in 2007, New Haven denied the request, saying it did not want such a facility within the Interstate 469 ring. Last year, the company announced plans to build inside the bypass at U.S. 30 and Doyle Road. Mark Hoeppner didn't knowingly move next to an interchange likely to be developed. With the coming of a new superhighway, it was thrust upon him, and his neighbors. As such, they deserve just a little extra consideration. And county planners should take a little extra care – and time, if necessary — to get this decision right, because it will make a difference next time. And there will be a next time.
More Information
The Fort Report
This week's show will feature Craig Ladwig and Ron Reinking of the Indiana Policy Review Foundation, who will discuss the possibility of a "convention of the states" and other constitutional solutions to the nation's problems. The episode will premiere at 5:30 p.m. Saturday on Comcast Channel 57 and FiOS Channel 27 and later at www.news-sentinel.com.